In The News
Eileen Joyce: Life Is Too Short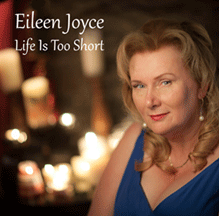 The Human Interest Magazine For Evolving Minds, 2012
By George Burden
"Life is too short", certainly a valid philosophical principle as well as a superb title for Eileen Joyce's third and most recent contribution to the world of top caliber Blues. Previous albums include her first offering "No More Blue Tears" and East Coast Music Awards nominee second album "Blue Man".
Ladies sing the blues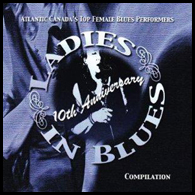 The Chronicle-Herald, Thursday March 11, 1999
By Elissa Barnard
More than one lady sings the blues in Nova Scotia. "There's so much female talent here in the genre-blues and jazz, R and B."says Halifax blues singer Eileen Joyce. There's a lot of excellent women vocalists here."
Eileen Joyce
The Daily News, Friday March 5, 1999
By Marilyn Smulders
Eileen Joyce says she's one happy woman, but that doesn't stop her from singing the blues.
"Yeah, I'm happy these days, but I've got to tell you, I've been through some tough times." she says referring to illness in her family and marital troubles. "Now when I'm singing, it's like I'm mining those old memories. there isn't anything I sing that I don't conect to lyrically."
Raised in Dartmouth, Joyce says she could sing before she could talk. The 40 something singer got her start in bars while she was still well below the legal drinking age. Then, after raising her children, she picked up her career again, singing the old blues standards by women she admires-Etta James, Dinah Wasington, Billie Holliday, and Bessie Smith.
Eileen Joyce: Out of the Blue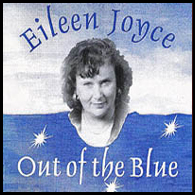 The Daily News, Friday April 24, 1998
By Charlie A'Court
Satisfaction Guaranteed isn`t just the name of one of the tracks off Eileen Joyce`s debut CD release Out of the Blue, it can be used to describe her live performance and the CD itself. As a member and soloist with the Nova Soctia Mass Choir, Eileen Joyce`s release has a soulful, blues style that's mixed with jazz and gospel. The CD which was released on Sept. 18, 1997 has sevral songs which were written and co-written by Eileen herself. There are also guest appaearances by Doris Mason on Believe Me, a blues duet with Sam Moon on Satisfaction Guaranteed and Barry Mack on Gone, just to name a few. The first track on the album, That Kiss has a jazzy feel to it with a blues vein running through the song. Mike Poole spices the song up with his sax solos with nice and clean guitar work by Chris Styles. Eileen has smooth vocals that are robust and forceful.
Ease My Pain is an up tempo Blues. There are two solos in between Eileen`s singin. At first, Carter Chapman stays in the background playing rhythnm guitaran then for the solo, he goes in full force. For the second solo, Ross Billard comes in on piano with a very blues touch. The horn section, drums and bass were synthesized on this song and although I'm not particularly crazy about drum machines or adding a horn section that's not really there, the timing and the feeling of the song is very real.
Joyce is no one hit wonder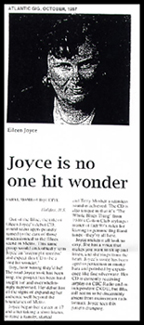 Atlantic Gig, October 1997
By Darryl Mombourquette
Out of the Blue, the title of Eileen Joyce's debut CD, would seem appropriately named to the ears of those unaccustomed to the Blues scene in Metro. This same group would undoubtedly term Joyce an 'overnight success' and expect this CD to be a 'one hit wonder.'
Boy, how wrong they'd be! The road Joyce took has been long, the project has been hard fought for and overwhelmingly supported. Her debut has all the signs of expanding her audience well beyond the boundaries of Metro.
Come On Eileen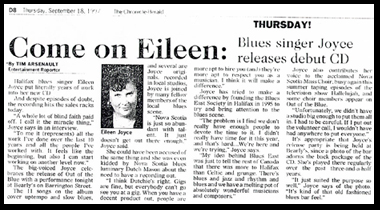 The Chronicle Herald, September 1997
By Tim Arsenault
Halifax blues singer Eileen Joyce put literally years of work into her new CD. And despite episodes of doubt, the recording hits the sales racks today. "A whole lot of blind faith paid off. I call it the miracle thing" . Joyce says in an interview. "To me it (represents) all the work I've done over the last 10 years and all the people I've worked with. It feels like the beginning, but also I can start working on another level now." The big-voiced Joyce celebrates the release of Out the Blue with a performance tonight at Bearly's on Barrington Street. The 11 songs on the album cover uptempo and slow blues, and several are Joyce originals. Recorded in local studios, Joyce is joined by many fellow members of the local blues scene. "Nova Scotia is just so abundant with talent. It just doesn't get out there enough." Joyce said. She could have been accused of the same thing and she waseven kidded by Nova Scotia blues luminary Dutch Mason about the need to have a recording out. "I think Dutchie's right. Gigs are fine, but everybody can't go see you at a gif. When you have a decent product out, people are more apt ot hire you and they're more apt to respect you as a musician. I think it will make a difference." Joyce has tried to make a difference by founding the Blues East Society in Halifax in 1995 to try and bring attention to blues scene.
Copyright © 2010 · Eileen Joyce Harvey